"I was a stranger and you took me in"
Pentecostal Responses to the Refugee Crisis
Program Chair: Lois Olena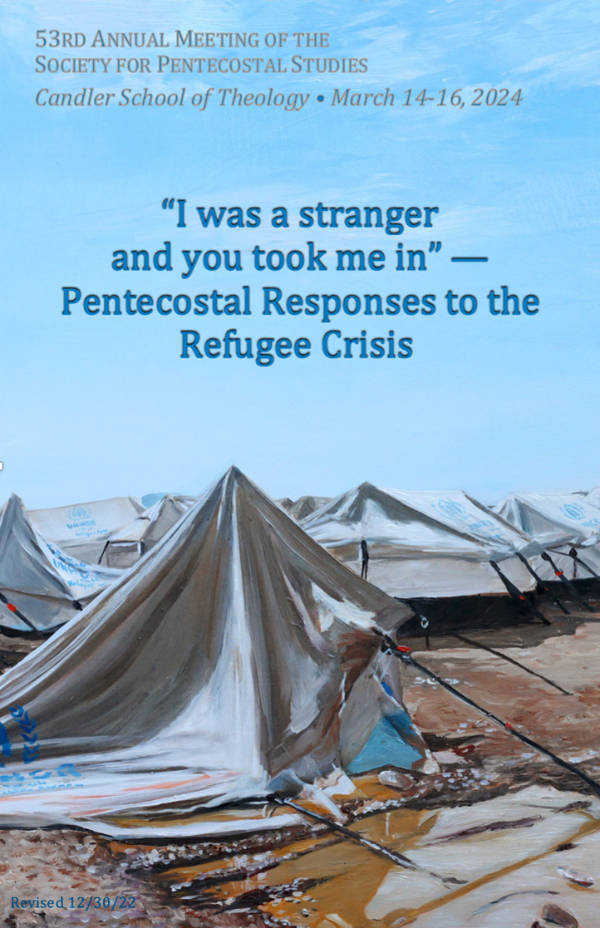 (click thumbnail for full poster)
The 2024 SPS conference theme will address the biblical call to "show love to foreigners" (Deut 10:19, NLT), imitating Jesus Christ who was a refugee (Matt 2:13-15), taught His followers to show kindness "to the least of these" (Matt 25:34-45), and who himself showed compassion to strangers including those of another country (John 4:7-29).
At the end of 2022, the UN Refugee Agency reported 108.4 million forcibly displaced persons worldwide, including 35.3 million refugees, 62.5 million internally displaced people, 5.4 asylum seekers, and 5.2 million other people in need of international protection.1 Türkiye holds the designation of hosting "3.6 million refugees, the largest population worldwide, followed by the Islamic Republic of Iran with 3.4 million. … Colombia 2.5 million, Germany 2.1 million, [and] Pakistan, 1.7 million."2 The 2022 Global Trends Report shows that "52 percent of all refugees and other people in need of international protection came from just three countries: Syrian Arab Republic 6.5 million, Ukraine 5.7 million, Afghanistan 5.7 million."
Too often the issue of global people on the move (whether migrants, asylees, refugees, displaced persons, or immigrants) polarizes societies, including the Church. Words like "legal" and "illegal" get tossed around almost as much as the human beings those words represent, causing believers in Jesus to take sides, often fostering pervasive divisiveness. Though people leave their own country for a myriad of reasons—whether of their own volition or due to war, economic crisis, or environmental disaster—Jesus does not command the Church and the Academy to justify kindness, hospitality, and welcome but simply to show these things to others.
Thus, daily, the Church has multiple opportunities to respond—biblically, theologically, missionally, ecumenically, and practically to the ever-increasing needs and opportunities resulting from global migration. To help resource the Church and Academy to respond, the Society for Pentecostal Studies (SPS) invites papers for the 2024 conference from all disciplinary fields to explore the myriad of ways Pentecostal Christ followers have responded in the past, do respond in the present, and can/must respond in and for the future.
Plenary speakers will address these issues in their own ways as scholar-practitioners involved in this field across the U.S. and around the world. Parallel sessions are invited to explore the relationship of Pentecostalism to increasing understanding of global and local realities; considering a biblical understanding of the people of God and the stranger; crafting a theology of migration; discussing missions-related issues relative to "the world at our doorstep," language issues, and contextual outreach; addressing theological education concerns relative to training ministers to address these issues; contemplating philosophical and ethical issues relative to injustice; and speaking to practical theology/local church concerns such as navigating legal and resettlement details and resources for refugees and asylees, understanding the sanctuary movement, formulating a welcoming congregational responses, and building community, considering political problems and opportunities, and strategizing for future ministry.
The goal of this conference theme is that both in the on-site exchanges as well as in continued scholarship and practical ministry emerging from SPS that Pentecostal believers would be at the forefront of Christlikeness in showing welcome, hospitality, kindness, and love to the stranger.
Notes:
---
1 "Global Trends Report 2022," UNHCR, accessed June 27, 2023, https://www.unhcr.org/global-trends-report-2022. UNHCR protects and/or assists 112.6 million, when adding to the 108.4 million figure "those who have returned home within the previous year; those who are stateless … and other groups to whom UNHCR has extended its protection or provided assistance on a humanitarian basis."
2 Ibid.
---
The Call for Papers is now closed for the 2024 conference.
---
Expectations about Presentations
To submit a proposal to the Program Committee for consideration for the 2024 Annual Meeting, you must willing to become a member of the Society prior to November 1, 2023. If you are a current member, your membership must be renewed for 2024 prior to November 1, 2023. If you need to apply or renew your membership, you may do so here.
Eligibility to Appear on the SPS Program
All participants in panels, seminars, workshops and paper sessions at the Annual Meeting are required to be SPS members in good standing. Organizers of panels, seminars, and workshops must verify participants' membership status by November 1, 2021. The membership status of individuals who submit proposals for paper sessions is verified by the Executive Director before the abstract is placed in the program. If you are not sure whether you have paid your SPS dues for the current year, you may check the membership directory on the members only page of our website.
A waiver of the membership requirement may be requested from the Program Committee by the Interest Group Leader at the time the session is submitted for review if the participant in question is a scholar in a field not ordinarily associated with Pentecostalism. A waiver of SPS membership for participation in the Annual Meeting will be granted only once for any given individual. Such waivers may not be granted to a scholar who is either submitting an individual proposal to the Program Committee or who is responding to papers within an organizer-refereed panel or affiliated group. Requests for waivers should be sent directly to the SPS Executive Director.
Annual Meeting Registration
All participants in sessions on the program, including nonmembers who have received a waiver of the membership requirement, must register for the Annual Meeting and pay the applicable fees no later than November 1, 2023.
Single Appearance Policy
The Program Committee seeks to encourage wide participation among SPS members at the Annual Meeting. The Committee therefore reminds all participants of its long-standing policy of limiting members to one appearance on the Annual Meeting Program. An appearance includes participation as a presenter or respondent in a panel, presenter of a seminar or workshop, or a parallel session. Panel organizers should ensure that participants in their proposed sessions are not appearing elsewhere at the Annual Meeting. Serving as the chair of a parallel session, presider of a meeting panel, or the leader of a roundtable discussion group is not treated as an appearance on the SPS program.
Presenters' Writing Guide
If you have been selected to present a paper at the annual meeting of the Society, you will be required to follow some guidelines. Download this archive: Sample Paper, unzip it and use either file to guide the formatting of your paper. (The file may download after you click this link without any further notification.)