"In Our Own Tongues"
Amplifying Pentecostalism's Minoritized Voices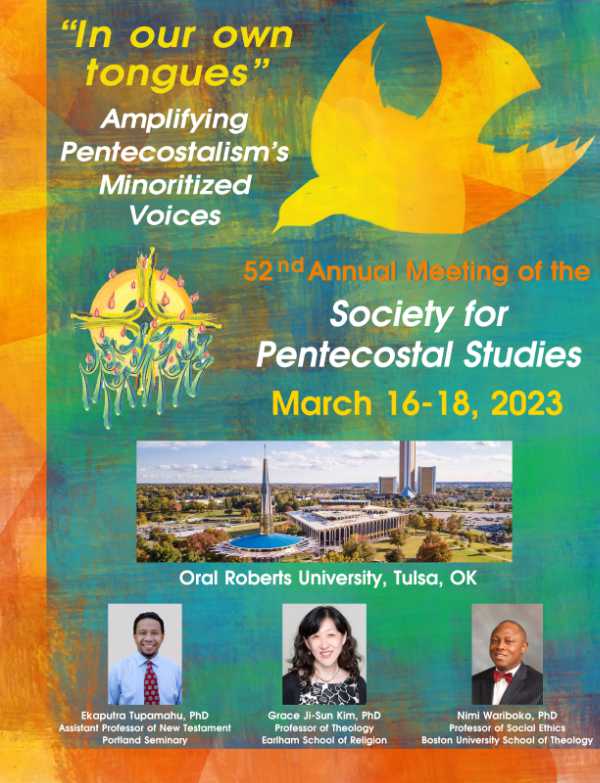 Program Chair: Sammy Alfaro 2023
The 2023 conference theme aims at amplifying Pentecostalism's minoritized voices by creating space to recover, retell and reflect on their stories, theologies and practices. From day one, the Spirit has been speaking to and moving within the church with glocal resonances. The unknown hearers of Peter's inaugural Pentecost address exclaimed: "we hear them declaring the wonders of God in our own tongues!" (Acts 2:9-11). Afterward, it was this same community of anonymous believers who as Spirit-anointed itinerant preachers took the gospel as far west to Rome and east to Parthia. Equipped and empowered by the Holy Spirit they returned to their home cities to share the good news with friends and families and planted the first churches. Sadly, much of their pioneering missionary efforts were left untold/unwritten for the annals of church history, but the legacy of their achievements remained.
Almost two-thousand years later, God's Spirit continues to speak to the global church, but tragically the minoritized voices of Pentecost continue to be unheard. Recent estimates from The World Christian Encyclopedia, 3rd ed. (2020) calculate that of the 644 million Pentecostal/Charismatic Christians around the world an overwhelming majority (554 million or 86%) reside in the majority world (4.5 million in Australia and Oceania, 125 million in Asia, 195 million in Latin America, and 230 million in Africa). Conversely, this means that roughly less than 14% of Pentecostal/Charismatic believers live in what many might view as the "academic centers" of global Christianity – North America (68 million) and Europe (21 million). These statistics are further problematized when we consider the racial makeup of US and European Spirit-empowered faith, which continues to flourish more rapidly among ethnic minorities of various social statuses who live within these continents. So, why not reimagine and rethink our Pentecostal/Charismatic faith, theology, and practice from the purview of the periphery?
We invite proposals for every interest group that aim to amplify the voices and stories of minoritized Pentecostal and Charismatic scholars, movements, and themes. Papers should challenge the SPS academy to consider our global presence as a movement and amplify the voices of marginalized thinkers, as well as their histories and perspectives. Our conference will be dedicated to recovering historical and theological minoritized voices of old and new leaders/scholars/practitioners within our movement. How can US Pentecostal academic institutions and scholars attempt to define, articulate and reenvision our faith and practices without a genuine commitment to a minoritized periphery that has become the movement's thriving force? Our aim will be to decenter the notion that the US and Europe are the main centers for thinking about the Pentecostal faith and consider the contributions of previously marginalized and minoritized voices who speak prophetically to us from the majority world.
The call for papers is now closed.
---
Expectations about Presentations
To submit a proposal to the Program Committee for consideration for the 2023 Annual Meeting, you must willing to become a member of the Society prior to November 1, 2022. If you are a current member, your membership must be renewed for 2023 prior to November 1, 2022. If you need to apply or renew your membership, you may do so here.
Eligibility to Appear on the SPS Program
All participants in panels, seminars, workshops and paper sessions at the Annual Meeting are required to be SPS members in good standing. Organizers of panels, seminars, and workshops must verify participants' membership status by November 1, 2021. The membership status of individuals who submit proposals for paper sessions is verified by the Executive Director before the abstract is placed in the program. If you are not sure whether you have paid your SPS dues for the current year, you may check the membership directory on the members only page of our website.
A waiver of the membership requirement may be requested from the Program Committee by the Interest Group Leader at the time the session is submitted for review if the participant in question is a scholar in a field not ordinarily associated with Pentecostalism. A waiver of SPS membership for participation in the Annual Meeting will be granted only once for any given individual. Such waivers may not be granted to a scholar who is either submitting an individual proposal to the Program Committee or who is responding to papers within an organizer-refereed panel or affiliated group. Requests for waivers should be sent directly to the SPS Executive Director.
Annual Meeting Registration
All participants in sessions on the program, including nonmembers who have received a waiver of the membership requirement, must register for the Annual Meeting and pay the applicable fees no later than November 1, 2022.
Single Appearance Policy
The Program Committee seeks to encourage wide participation among SPS members at the Annual Meeting. The Committee therefore reminds all participants of its long-standing policy of limiting members to one appearance on the Annual Meeting Program. An appearance includes participation as a presenter or respondent in a panel, presenter of a seminar or workshop, or a parallel session. Panel organizers should ensure that participants in their proposed sessions are not appearing elsewhere at the Annual Meeting. Serving as the chair of a parallel session, presider of a meeting panel, or the leader of a roundtable discussion group is not treated as an appearance on the SPS program.
Presenters' Writing Guide
If you have been selected to present a paper at the annual meeting of the Society, you will be required to follow some guidelines. Download this archive: Sample Paper, unzip it and use either file to guide the formatting of your paper. (The file may download after you click this link without any further notification.)